VWW-Regiosaaten® – assurance of origin and quality
What are native seeds and seedlings?
Native plants are defined as all naturally growing non-domesticated plant species in our environment, which have a long and dated presence in the region, and which are untamed and unaltered by human cultivation.
Native seeds are the seeds of local wild plants, reared to seedlings, which later go on to form the stock of plants to be used and planted.
When are native plants VWW-Regiosaaten® ?
From an environmental perspective, the origin of the initial seeds and the area of application should be both as close to one another and as similar to one another as possible. The seed is then "regionally indigenous" and is well adapted to the local conditions.
The certificate VWW-Regiosaaten® – assurance of origin and quality
-> find our Rules & Regulations for  VWW-Regiosaaten

here
The VWW has launched an independent nationwide certification for seed production. The certification takes place without state subsidies. Producing companies and traders are equally included in the system in order to keep the quantity flow of the seeds traceable
Allocation structure of the certificate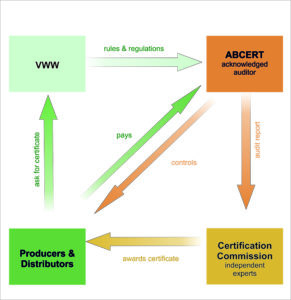 Regions of origin and production areas
To use the term "regionally indigenous" transparently, a system of associated areas defined by specific physiographic features had to be established. The areas used by the VWW were developed in a DBU research project in co-operation with the University of Hanover (DBU 2010: Development and practical realization of minimum requirements on nature conservation on a proof of origin for regional wild seeds of herbage plants, final report, Univ. Hannover, file number DBU: 23931).
Presently the sales volumes within the 22 regions of origin are not sufficient for an economical production. Therefore these regions have been consolidated into 8 production areas.
Interim map of 22 regions and 8 production areas:
Production areas

NW: Northwest German lowland
NO: Northeast German lowland
MD: Central German lowland and hill country
WB: West German highland and hill country
SO: Southeast and east German highland
SW: Southwest German highland and hill country with Oberrheingraben
SD: South German highland and hill country
AV: Alps and Alpine foothills

Regions of origin

  1 = Northwest German lowland
  2 = West German lowland with lower Weserbergland
  3 = Northeast German lowland
  4 = East German lowland
  5 = Central German lowland and hill country
  6 = Upper Weser and Leinebergland with Harz
  7 = Rhenish mountain country
  8 = Erz and Elbsandsteingebirge
  9 = Oberrheingraben with Saarpfälzer mountain country
10 = Schwarzwald
11 = Southwest German highland
12 = Franconian hill country
13 = Swabian Alb
14 = Franconian Alb
15 = Thüringer Wald, Fichtelgebirge and Vogtland
16 = Lower Bavarian hill and plate region
17 = Southern Alpine foothills
18 = Alps
19 = Bavarian and Oberpfälzer Wald
20 = Saxony loess and hill country
21 = Hessian highland
22 = Uckermark with Odertal
Plants collected and sown again within these areas, can be regarded as regionally indigenous. Seeds certified to our standards we call VWW Regiosaaten®.
Against cultivated species and neophytes
In Germany, vast amounts of cultivated grasses and fodder-crops are used in environmental landscaping projects in the open countryside each year.
These cultivated species can survive in the countryside and become a serious competitor in their ecosystem. They can account for the disappearance of wild plants or negatively influence 'wild' native plants of the same species by crossbreeding.
Through contaminated seeds from other countries, alien plants are introduced into Germany and supplant local species when they develop better than those in specific locations. These so-called "invasive neophytes" are not used for seed production in our facilities (see also the website of the federal agency for nature conservation)
Our production process – from nature for nature
There are currently around 100 agricultural companies in Germany producing seeds and seedlings of herbaceous wild plants.
The initial seeds are collected locally by-hand from mature wild plants in their natural environment without adversely affecting the local plant population.
With this harvest, a propagation culture, and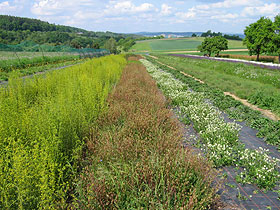 potentially large-scale field cultivation, can be established. The propagation process is carried out either by modern agricultural or manually intensive horticultural methods. A number of production facilities operate according to the regulations of organic cultivation.
In order to minimize genetic reduction in the cultivation, the reproduction is limited to a few generations.
After the harvest, the seeds are cleaned, cooled, and stored at a suitable temperature until they are sowed.
Uses of wild plant material
Native plants and seeds are employed throughout the countryside and also in urbanized areas.
Their main form of application is in the countryside in the environmental landscaping of newly created areas (e.g. roadside tracks, former rubbish heaps, reclamation of land) and in the landscaping of the environment for ecological purposes as a means of offsetting environmentally detrimental development.
As for urban areas, the planting of species-rich shrubs and landscaping of green areas with exceptionally lush local species is possible in gardens, around traffic areas, or in well maintained parks.
Species-rich stocks improve the recreational value of a landscape through their changing blossoming patterns and support the diversity of the local fauna.